News 2014
INT shows in Tartu (Estonia)
08./09.11.2014
At the INT show in Tartu my Audrey in 25 months became Estonian & Baltic States champion, as well as got her CACIB #6 and #7 and became 1st best female both days!  So pleased of the words in critics by the first day's judge Ferdinando Asnaghi (Italy): "I confirm the quality of this champion. Excellent condition".
Retrievers Speciality show
13.09.2014
On the 13th of September we celebrated 2nd Birthday of Laguna Love curly litter at the Retriever Speciality show, judged by Ewa Mjelde from Norway! Audrey became Best female-1 & BOO!

Audrey - HD:A/A, ED:0/0!!!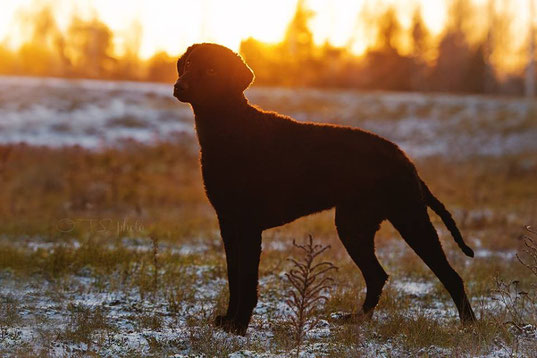 Curly World Seminar & World Dog Show
02.-08.08.2014
22 months old sunny Audrey on World Dog Show became class winner & got RCAC!!! Breed entry: 44, judged by Kirsti Louhi (FIN).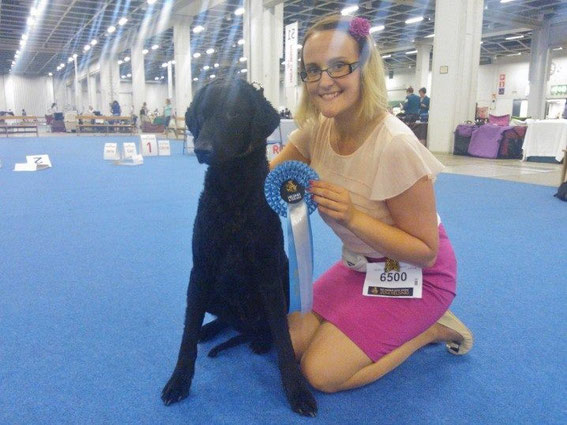 FCI VI group Speciality show
07.07.2014
Aragorn The King Vitalight (Jillocs Loverboy & Marnellin Joy to The World) aka GOSHA on FCI VI group Speciality show on the 27th of July won BEST OF BREED and Res. BEST IN SPECIALITY SHOW among 13 breeds judged by Nicolina Davidovska from Bulgaria!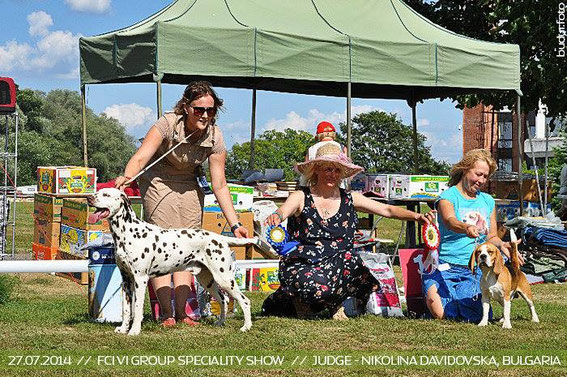 Audrey - new Latvian Champion!
Laguna Love Audrey Hepburn today at Speciality show in Ogre got CAC, Best of Breed, Best in Show-3 & became LV, LT & BLR CH in 21 month!!! On NDS she also was BOB & Ogre Winner'2014! Special thanks to retriever specialist Kostadin Shankov for such words about Audrey!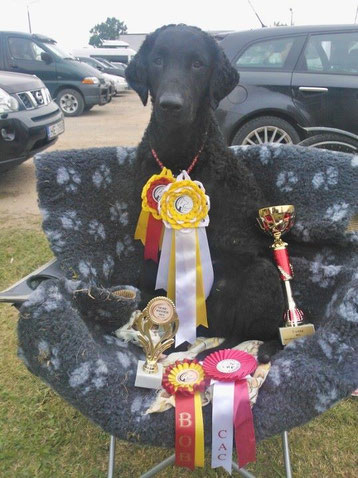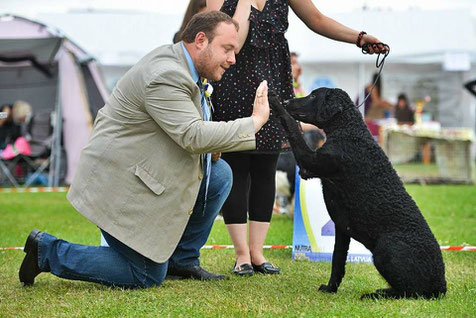 Audrey - Belarus Champion!
We are back from funny trip to Belarus! Audrey got CAC, Best of Breed (Z. Oleynikova, UA) and became Res. Group Winner (C. Lebret, FR)!!!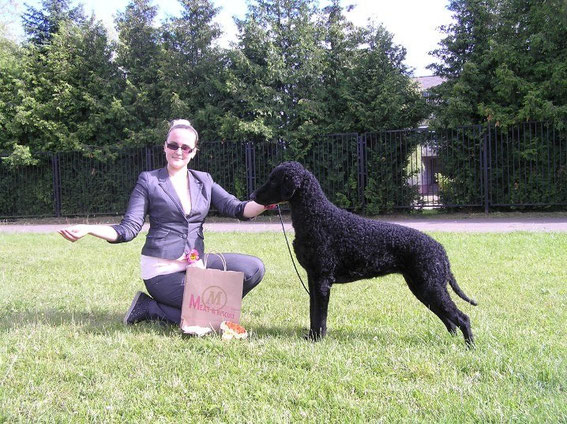 INT show in Riga
07.06.2014
Brilliant day spent at INT show in Riga, where under judgement of Lesley Chalmers from New Zealand 20 months old Laguna Love Audrey Hepburn got CACIB, BEST OF BREED and became Res. BEST IN GROUP!

2xNational shows in Talsi
03./04.05.2014
Super time spent at Talsi National shows! 
03.05 - Best of Breed (K. Butrimova, LT) & BEST IN GROUP-1 (Jo Schepers, NL)!!!!
04.05 - Best of Breed (D. Reicher, CRO) & Best in Group-4 (I. Beradze, CZ)!!!

Wonderful company, lots of laugh and jokes, happy dogs and delicious food!
Audrey - TOP PUPPY-3 of the 2013!!!!!
Audrey became TOP PUPPY-3 of the year 2013 among all breeds in Latvia!!!!! Fantastic result for our breed!!! Also she is TOP DOG-9 among all breeds being just 18 months!!!
2xCACIB shows in Riga
22./23.03.2014
Audrey trully rocked both days! 

22.03. (3 curlies) judge Vladimir Piskay (SLO) - Exc./1/CQ/Best female-1/3rd CACIB/ Latvian Winner'2014/Best of Breed!!!
23.03. (2 curlies) judge Otakar Vondrouš (CZ) - Exc./1/CQ/Best female-1/4th CACIB/Best of Breed and after BEST IN GROUP under judgement of Anatoliy Zhuk (BLR)!!! 
Video of Audrey's phenomenal win in the Group 8!
National shows in Valmiera
22./23.02.2014
Our dream team wasn't shining as bright as usually, but this 100% means that something mega great is waiting for Audrey and me in the nearest future!
22.02 - judge Panos Demetrios (Cyprus) - Exc./1/CQ/Best female-1/BOO
23.02. - judge Harto Stockmari (Finland) - Exc./1/CQ/Best female-2