News 2018
We are expecting curly puppies!!!
25.04.2018
After our wonderful trip to Sweden, Audrey and Morris will become parents around the beginning of June! 
Morris is 5 years old male with a wonderful temperament, beautiful and strong body, nice coat and ability to work! He is bred by Lena Gottfridsson and owned by Mona Fager. Morris is AA/00 on hips, has clear eyes, GSD clear, PRA cord1 clear, EIC carrier.
Mother of puppies is our Laguna Love Audrey Hepburn, Audrey, bred by Gunta and Laura Gusāne. Audrey is elegant girl with beautiful head and expression and excellent construction and temperament. She is AA/00 on hips, has clear eyes, GSD clear, PRA cord1 carrier, EIC carrier.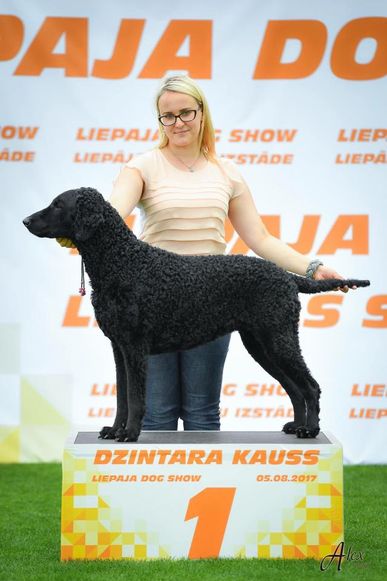 Kaisa - winner of the breed at the Specialty show in Russia!
22.04.2018, Moscow, RUS
In Russia at the biggest specialty show for retrievers our 'KAISA' All Roads Lead To Golightly became BEST OF BREED & BISS-4 with great comments from judge Bertil Lundgren (SWE)! 
❤️ Greatest congratulations to owner Galina Filonenko and handler Anastasia Gordeeva!
Bass - Latvian champion!
21./22.04.2018, Riga, LV
During the weekend our 'BASS' Ambassador Of Love Golightly became Champion of Latvia and and BEST OF BREED twice as well as got BIG-4 on Sunday! Thank you to judges Ligita Zake (LV) & Juta Haranen (EE)!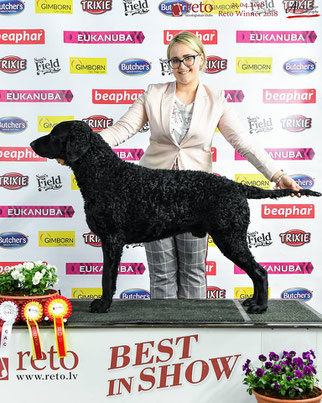 Our Callisto - CRUFTS Winner!!!!!!!
11.03.2018, Birmingham, UK
Breeder's dream came true... Our 20 months old 'CALLISTO' All I Ever Wanted Golightly With Roughyeds (Zonnekoning van Elegast X Laguna Love Audrey Hepburn) became Best female and CC winner at Crufts!!!!!!!!!!! Huge congratulations to her owners Jeannette and Alan! 
❤️ I am so so indescribably happy that I was witnessing this moment! Tears of happiness!